taiga spirit
30' x 20' x 12'
steel, aluminum, fibreglass, resin, hair, fur
production: Fred Caron & Raphael Brien for Evenko
fabricators: Serge Mathieu & team, Mark Unterberger & team
photographed onsite at Île Notre Dame, Montréal, summer 2017
taiga spirit
30' x 20' x 12'
steel, aluminum, fibreglass, resin, hair, fur
production: Fred Caron & Raphael Brien for Evenko
fabricators: Serge Mathieu & team, Mark Unterberger & team
photographed onsite at Île Notre Dame, Montréal, summer 2017
taiga spirit
2016
30' x 20' x 12' outdoor installation for Osheaga 2016
steel, aluminum, fibreglass, resin, hair, fur
production: Fred Caron & Raphael Brien for Evenko
fabricators: Serge Mathieu & team, Mark Unterberger & team
photographed onsite at Parc Jean Drapeau, Île Ste Helène, Montréal, summer 2016
taiga spirit
2016
30' x 20' x 12' outdoor installation for Osheaga 2016
steel, aluminum, fibreglass, resin, hair, fur
production: Fred Caron & Raphael Brien for Evenko
fabricators: Serge Mathieu & team, Mark Unterberger & team
photographed onsite at Parc Jean Drapeau, Île Ste Helène, Montréal, summer 2016
taiga spirit – dawn
2016
30' x 20' x 12' outdoor installation for Osheaga 2016
steel, aluminum, fibreglass, resin, hair, fur
production: Fred Caron & Raphael Brien for Evenko
fabricators: Serge Mathieu & team, Mark Unterberger & team
photographed onsite at Parc Jean Drapeau, Île Ste Helène, Montréal, summer 2016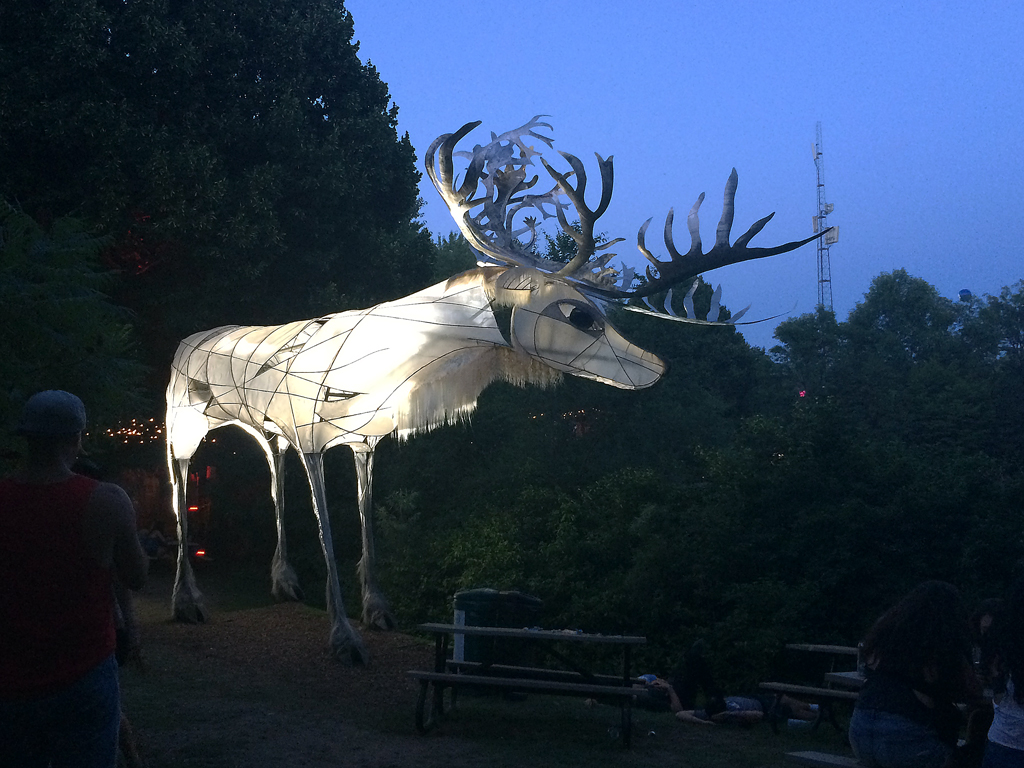 taiga spirit – night
2016
30' x 20' x 12' outdoor installation for Osheaga 2016
steel, aluminum, fibreglass, resin, hair, fur
production: Fred Caron & Raphael Brien for Evenko
fabricators: Serge Mathieu & team, Mark Unterberger & team
photographed onsite at Parc Jean Drapeau, Île Ste Helène, Montréal, summer 2016
taiga spirit – dawn
2016
30' x 20' x 12' outdoor installation for Osheaga 2016
steel, aluminum, fibreglass, resin, hair, fur
production: Fred Caron & Raphael Brien for Evenko
fabricators: Serge Mathieu & team, Mark Unterberger & team
photographed onsite at Parc Jean Drapeau, Île Ste Helène, Montréal, summer 2016
taiga spirit
2016
30' x 20' x 12' outdoor installation for Osheaga 2016
steel, aluminum, fibreglass, resin, hair, fur
production: Fred Caron & Raphael Brien for Evenko
fabricators: Serge Mathieu & team, Mark Unterberger & team
photographed onsite at Parc Jean Drapeau, Île Ste Helène, Montréal, summer 2016
taiga spirit – detail
2016
30' x 20' x 12' outdoor installation for Osheaga 2016
steel, aluminum, fibreglass, resin, hair, fur
production: Fred Caron & Raphael Brien for Evenko
fabricators: Serge Mathieu & team, Mark Unterberger & team
photographed onsite at Parc Jean Drapeau, Île Ste Helène, Montréal, summer 2016
taiga spirit (detail, in production)
2016
30' x 20' x 12' outdoor installation for Osheaga 2016
steel, aluminum, fibreglass, resin, hair, fur
production: Fred Caron & Raphael Brien for Evenko
fabricators: Serge Mathieu & team, Mark Unterberger & team
photographed onsite at Parc Jean Drapeau, Île Ste Helène, Montréal, summer 2016
taiga spirit
2016
30' x 20' x 12' outdoor installation for Osheaga 2016
steel, aluminum, fibreglass, resin, hair, fur
production: Fred Caron & Raphael Brien for Evenko
fabricators: Serge Mathieu & team, Mark Unterberger & team
photographed onsite at Parc Jean Drapeau, Île Ste Helène, Montréal, summer 2016
The Taiga Spirit: Osheaga 2016-2017
During the Spring and Summer of 2016 I had the great good fortune to design a large-scale outdoor installation for the Osheaga music festival. Upwards of 150,000 people attend the three-day festival which takes place every summer on Île Ste Helène, an island in the middle of the Saint Lawrence river just south of Montreal.
The beast was inspired partly by animator Hayao Miyazaki and his film Princess Mononoke, and partly by recent travels to the North – an artist's residency which brought me to the heart of Denali National Park for ten days earlier the same summer.
The creation of the beast required a team of a dozen people. Metal fabrication was led by Serge Mathieu, production was led by Fred Caron and Raphael Brien, and the skinning and detailing work was done by Mark Unterberger and myself.